Hot shot: the story behind the great global coffee revolution
Coffee shops have taken over our high streets, supported by a never-ending supply of connoisseur addicts. Jay Rayner meets some of the major players taking the revered bean to even greater heights, and asks whether they are ruining his favourite espresso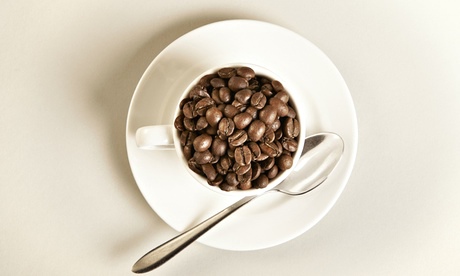 It is September 2012 and I am sitting in a restaurant on London's King's Road staring unhappily at an espresso. The colour is right. It's coal black and across the surface is a fine, seashore foam of copper-coloured froth, the all important "crema". The taste, however, is wrong. Very wrong. It's fiercely acidic, a sour hit that makes my lips pucker up like a cat's bum. I wanted the familiar dark, bitter chocolate and caramel tones; I got something akin to lemon juice. Over the next few months the same thing keeps happening in restaurants and cafés: I order espresso; I am served a cup of something sharp and unpleasant.
Malatesta, a short, stocky Australian never seen without a hat, nods sagely. "It's to do with the roast. You like the flavours of a long, dark roast. But modern coffee aficionados now like to emphasise that it's the seed of a fruit. So they roast it for less time and that, in theory, gives you access to all the fruitier, fresher flavours." I stare at him. You mean it's actually meant to taste like this? He nods, with a wry grin. "It's intentional." Oh dear.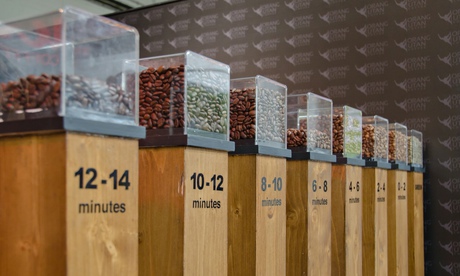 At the top of the market are the independents, the "third wave" artisanal coffee shops, apparently soon to be superseded by an emerging "fourth wave" making what the Allegra report describes as "greater use of scientific principles to perfect the entire coffee-making process from bean to cup". Apparently they're wiring their laptops to roasting machines to help make really sour cups of espresso. This may or may not be progress, depending on your point of view.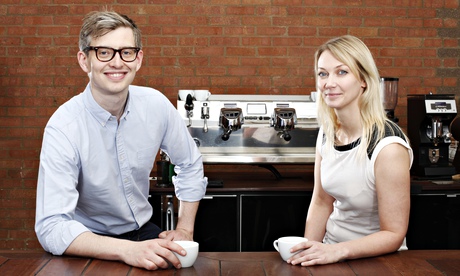 Tom, a financial adviser who lives nearby, comes every day to drink flat whites. "Coffee has become so fashionable that you can think people know what they're doing just because they've got a nice-looking machine." And that's not always so? "No, it isn't. What I like about this place is it's not too serious or po-faced."
So what, I ask, is their mission? Hoffmann tells me I need to understand that the artisan end of the coffee business is now all about honouring the bean and, through that bean, the people who grew it. "At Square Mile we have an aesthetic around coffee. There is a way we like it to taste which is as different as possible from as many different places." The fact is, he says, you can make any coffee taste exactly the same through bad roasting. "Here, we're trying to do the opposite." Hoffmann grins. "We ruin coffee for people – in the nicest possible way." "
Around 60% of the world's coffee is Arabica, and 30% Robusta. There are different varieties within that but, bar a few exceptions, that's not what defines coffee. Instead it's all about origin. It is not just about a region, or even just a farm. It is about specific plots on those farms, subjected to different climactic and soil conditions. A bean can be delineated by an area of as little as a few hectares.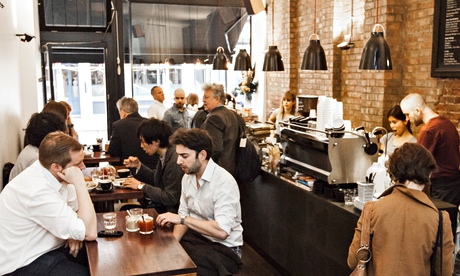 He serves me a cup of something from Ethiopia. He talks about the "bergamot qualities" and it does indeed taste a bit like Earl Grey tea. I mutter that if I wanted something that tasted like Earl Grey tea, I'd probably just have a cup of Earl Grey tea. He acknowledges the point, but says he wants me to understand how complex the flavour of coffee can be. "Coffee can taste a whole heap of ways. People expect it to be a bitter, woody thing that needs milk and sugar to make it palatable. Coffee people tend to drink it black."
Yes, what is that about? It's obvious to me that asking for a little frothy milk in my coffee would now be regarded as akin to asking the Queen for her bra size. "Milk means you'll miss some of the nuance. It's introducing fat and caramel tones."
The big change recently, the huge change, is the one Salavatore Malatesta pointed to: the favouring of a much lighter roast, to bring out the fruitiness of the bean. "If you're used to a darker-roast coffee, then ours is a different drink and you will be disappointed." You don't say. I've spent the past couple of years being constantly disappointed.
It is, of course, easy to mock this level of connoisseurship and, to be fair to Hoffmann, he recognises this. "I'm not interested in coffee becoming a new wine-snob product. I'm really not. I just want more people to drink better coffee. I want you to feel coffee is worth spending a little more on to get a good product." And does he think that's happening? "Yes. Taste is changing. The basic expectation of the minimum quality of coffee is changing."
So what does he think of behemoths like Starbucks? "Starbucks are very valuable to us. They're the great recruiter. They bring people into coffee drinking. And from there they go on to independents." What about Nespresso machines? He shrugs: "Microwave dinners." Ouch. OK then, what about cafetières at home? "Oh, those are wonderful." Phew. That's what I use.
What's most important, he says, is that the number of quality independent coffee shops is exploding, not just in London but across the country in cities like Bath, Manchester, Bristol and Edinburgh. Training baristas used to be a large part of their work. "But it's an increasingly difficult task because there are so many people making coffee." A skills gap is emerging. So can the coffee boom continue? "Historically I should be very nervous because there have been two coffee booms previously that didn't last."
First was the era of the great coffee houses in London between 1652 and 1750, which became the focus of politics, law and the turbulent waters of the Enlightenment. Then, in the 1950s, we had the espresso-bar boom and a massive spike in consumption. As a nation we have walked away from coffee twice. "But this one may last because better coffee is going into homes." Hoffmann's keeping his fingers crossed; after all his business depends on it.
From Square Mile I travel south to meet Anita Le Roy, the grand dame of coffee in Britain. Willowy and bright eyed with an impressive mane of salt-and-pepper hair, Le Roy has an air of amused detachment about her. Today, her company, Monmouth Coffee, is housed in a shiny converted railway arch at the hip foodie Mecca of Maltby Street just south of Tower Bridge. It began in a tiny space on Monmouth Street in Covent Garden in the late 70s, as the first independent roaster. She makes clear that, after all these years, it feels as if they have stayed relatively still while coffee culture has moved towards them.
Not that she thinks it's all positive. "In 1978 if you wanted to buy beans you went to Harrods, somewhere like that. It was all very exclusive and male, which I hated; but I fear that exclusivity has come back. That's one of the things we fight against. We have to welcome and invite people in. We mustn't make people feel belittled, patronised and embarrassed." Too often, she says, the modern cult of coffee does precisely that.
And what about the fashion for acidic espressos? Le Roy says she has an explanation. It's actually a symptom of something positive. "More and more roasters are going direct to origin to source their beans and that has to be a good thing. But when you're tasting at origin it has a far lighter roast because that makes it easier to detect faults. I think they've decided that's how the coffee is meant to taste." Does that mean that Monmouth goes for a darker roast? "Yes, we roast darker than many of the new wave. We're probably regarded as rather staid."
In any case, she says, they are far less interested in the café business than many others. Although they have two cafés – the original in Covent Garden, the second at Borough Market, both of which can generate seemingly endless queues – the retail drinks business only accounts for 5% of the six tonnes of beans that they roast a week. "We're actually about selling beans for use at home." The more beans they can sell for home use, the deeper Britain's coffee culture, the more they can pay the farmers. "Our focus is on improving quality at origin. It's on improving the lot of the farmer, who may be working a very small piece of land. That's why we always put the name of the farmer on our bags of beans." It really is all about origin.
Back at the London Coffee Festival, off Brick Lane, I wander the aisles. The likes of Costa and Starbucks are here but they are consigned to the most soulless of the rooms. The feverish action is in the tighter spaces. Here, every stall seems to come with a heart-warming legend. There are slogans like: "This coffee has a story to tell," and "Buy your decent coffee here."
It comes complete with an onboard computer. One of the team tells me, "You can put an idiot in charge of it and it will still work." I'm asked if I'd like to try an espresso from the Sanremo Opera. Bravely, despite all my recent disappointments, I say yes. A barista sets to work, tamping down ground coffee, building steam, setting temperatures. And then… there's a sad dribble into the cup. The pressure's wrong, she says. She tries again. And again. Still she is not satisfied with the result. Time is passing. I say, "Do you know what the word 'espresso' actually means?" She smiles thinly at me and carries on tinkering with the controls. "Teething problems," she mutters. I suggest I should come back later and she agrees it's a good idea. I never do get to try an espresso from the Sanremo Opera.
I can't say that I'm terribly disappointed.